It's a bit ironic how I'm constructing today's feature on last month's haul after I posted up my announcement of a
spending ban/Project Pan
.
Call it good timing or anything of a similar nature, but I can assure you, these products were acquired before I decided to adhere to the ban. I realised that it was just so abrupt that I had purchased so many products then threw in a spending ban to conclude the month. It came quite as a shock that I had hauled a bit too much. On a positive outlook, I've started the new year with new products to play with.
Priceline Haul
From the skincare sale:
My boyfriend has been one of those types of guys that don't take care of their skin as well as they should. Water alone does not suffice! Taking advantage of the sale, I decided to set him up with a much needed basic skincare routine with a few added bonuses.
Nivea For Men Cool Kick Shower Gel (500mL)
Nivea Men Anti-Irritation Shaving Gel
L'Oréal Men Expert Hydra Energetic Deep Exfoliating Charcoal Scrub (100mL)
L'Oréal Men Expert Hydra Energetic Skin Awakening Icy Cleansing Gel
L'Oréal Men Expert Hydra Energetic Daily Moisturising Lotion (SPF 15) (50mL)
I needed to stock up on a few cleansers and shower lotions; I found the timing of this sale to be very convenient.
Garnier Pure Deep Clean cream wash
La Roche-Posay Effaclar Duo
This is my second repurchase although the product didn't do wonders for me, I somewhat feel that I need to have this in my skincare routine.
Hiruscar Scar Treatment Gel
I have quite a number of scars I've acquired through pimples, mosquito bites and cuts that I would love to eradicate. I've already started trailing this product and so far the results quite positive. I'll have a review up on this gel soon.
La Roche-Posay Sensi White Foaming Cream
Another cleanser I picked up. This one is much different to the other ones, as it is targeted for sensitive Asian skin. I have a yellowish complexion and some uneven skin tone; definitely excited to try this out!
Lux Magical Spell Fine Fragrance Body Wash
I can imagine using this before bed and easily winding down after a stressful day. The fragrance is not one I gravitate towards to, but it does smell pleasant (I like to smell good before I sleep!).
Clearasil Daily Clear Vitamins & Extracts Daily Wash
I tried a sample of it and enjoyed using it. I had a nostalgic moment when I purchased this, as Clearasil was my first cleanser (back in my junior years).
Lux Shea Scrub Exfoliating Body Wash
This smells divine, need I say more?
Nivea In-Shower Body Lotion Skin Conditioner
A repurchase. I hardly moisturise in Summer, reasons being I'm lazy and I don't find it necessary compared to the cooler months. Enter this innovative skin care product to take care of my habits.
Lux Luminous Touch Luminosity Body Wash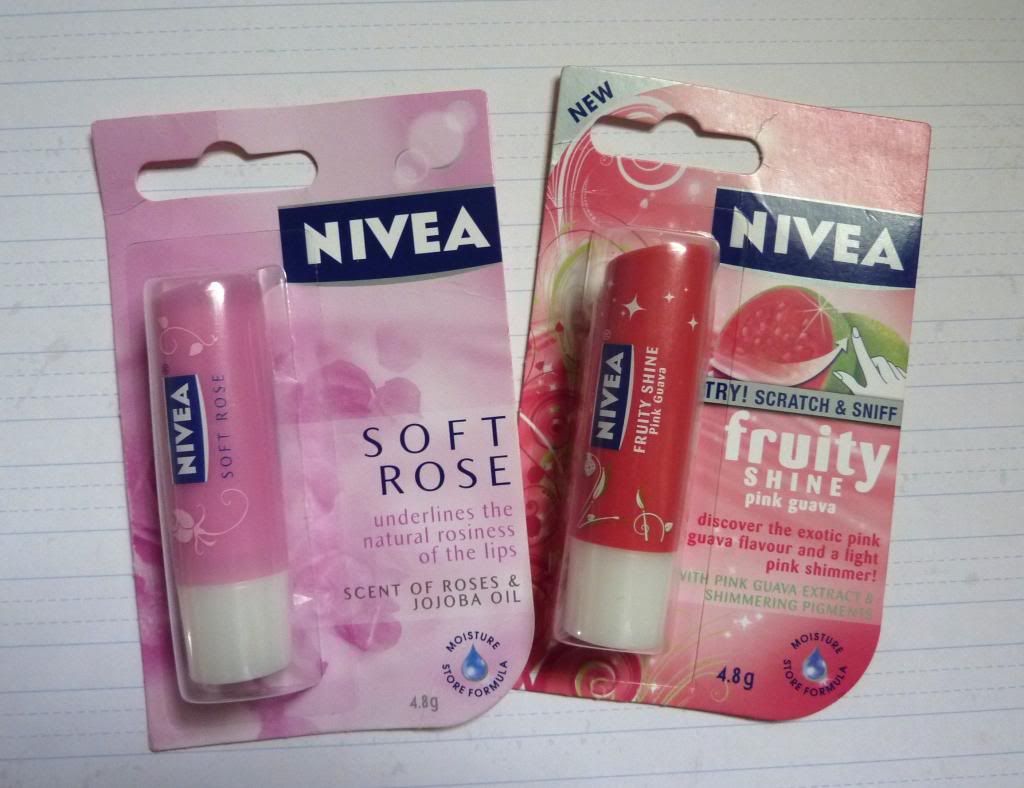 I believe Nivea's lip balms were also on promotion during the skincare sale so I picked up some new balms to try.
Nivea Soft Rose Lip Balm
I love rose products so I had to pick this up!
Nivea Fruity Shine Lip Balm in Pink Guava
I've seen a blogger mention this product before and loved the swatches she provided.
From a random trip to Priceline: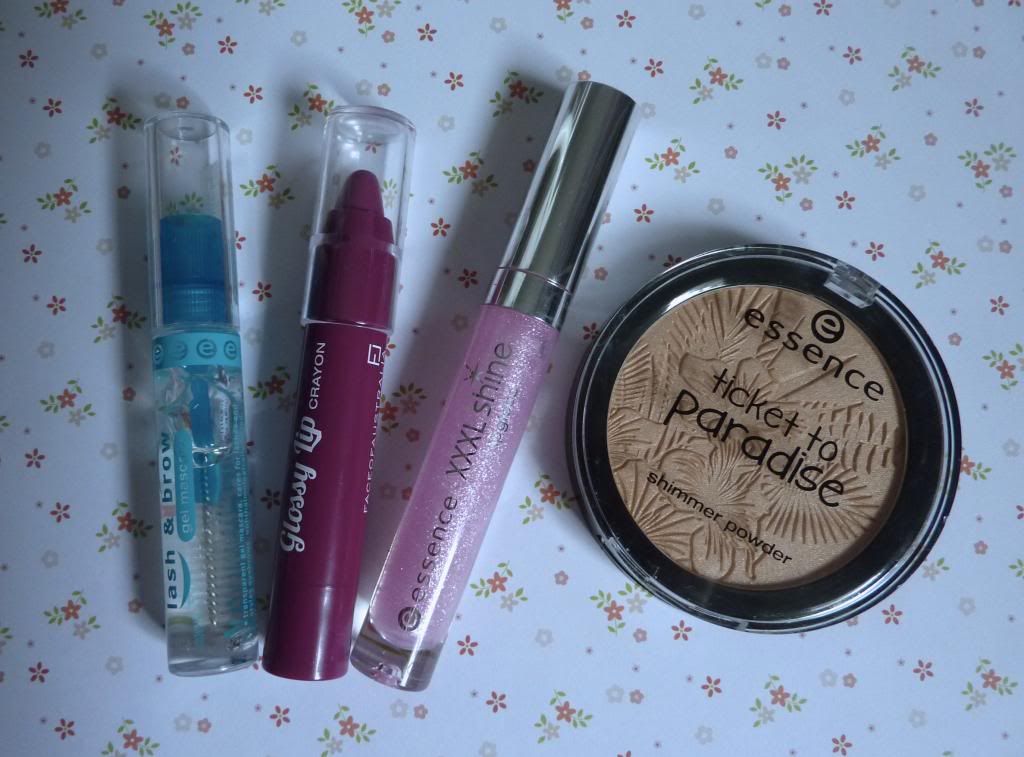 Essence Lash & Brow Gel Mascara (9mL)
I first heard about this product through Candice from
YouReview
. Intrigued and realising I don't use anything for my eyebrows, I picked this up with hopes to tame it a bit and perhaps inject some 'definition' in them.
Face of Australia Glossy Lip Crayon in Berry Brulee (3.8g)
I wasn't in the mindset to pick up any of these, but in store, this shade was just simply gorgeous berry-purple that I couldn't resist.
Essence XXXL Shine Lipgloss in 14 Bubble Babe (5mL)
The triple Xs must mean something right? I had to pick this up after noticing how insanely this gloss is saturated with silver-pink duochrome glitters. Very sparkly!
Essence Ticket To Paradise Shimmer Powder (10g)
This highlighting powder is from the limited trend edition "
Ticket To Paradise
" released around a similar time to the trend edition "
Beauty Beats
". I wasn't very interested in anything from the former trend edition but when I saw the highlighter in the flesh, I just had to have it! I love the embossed hibiscus flower detailing and how lovely the product is to use.
BeautyJoint Haul
The products purchased were inspired by
sleepandwater
's
BeautyJoint
haul (of course, my admiration for the haul contents).
e.l.f Studio Blush in Pink Passion
I don't have that many cool toned pink blushes and have never ventured into purchasing e.l.f products, so it seemed very plausible that I should purchase this.
Wet n Wild Color Icon Eyeshadow Trio in Silent Treatment
I saw how gorgeous the swatch of the eye lid shade was and had to purchase this!
Wet n Wild
Color Icon Eyeshadow Collection in
Comfort Zone
This seems like a great neutral palette; the swatches looked great. Another addition I had to have!
Cherry Culture Haul
There was a special on
NYX
products so I threw a few products in accompanied with products I've wanted to try from different brands.
Milani
Baked Blush in
05 Luminoso
I purchased after reading positive reviews. It's also my first
Milani
product and of its kind (baked blush).
NYX
Rouge
Cream Blush in
Tickled
NYX
Rouge
Cream Blush in
Natural
I picked up these cream blushes after enjoying my first one in
Hot Pink
that I got from local Target store for more than twice the cost of these.
China Glaze
Nail Lacquer in
842 Snow Globe
China Glaze
Nail Lacquer in
565 Tantalize Me
China Glaze
Nail Lacquer in
557 Up All Night
These are my first
China Glaze
polishes; I'm very excited to try them out.
NYX
Jumbo
Eye Pencil in
604 Milk
I've seen this pop up in my eyeshadow tutorials on
YouTube
. I don't feel this is a necessity but I'm curious to see how this works under my eyeshadows.
NYX
Jumbo
Eye Pencil in
617 Iced Mocha
Cherry Culture
Balm in
Chocolate
This was an added bonus for purchasing over $20.
NYX
Black Label
Lipstick in
Hot Pink
I don't have a hot pink lipstick so I'm starting off my first one with
NYX (
possibly can't go wrong there!)
Benefit Haul
I received an email from
benefitcosmetics.com
of a sale on discontinued products. And unfortunately, I got lured in, as simple as that.
I purchased two limited edition Christmas sets:
Benefit
Love at first shine!
Gloss Set
This contains 6 deluxe sized ultra plush lip glosses - a great way to sample
Benefit
's glosses!
Benefit
Show me the love!
Set
This comes with a full sized
they're Real
mascara,
Benetint
and a deluxe sample sized of
the POREfessional.
The set costed only a few more dollars than the cost of a full sized
Benetint
so why not.
The rest of the products were discontinued and on sale for only $10.
Benefit
Full Finish
Lipstick in
Flirt Alert
Benefit
Velvet Eyeshadow
in
Dandy Brandy
Benefit
Creaseless
Cream Eyeshadow in
Sippin' N Dippin'
BeautyBay Purchase
I splurged on
Urban Decay
& Oz:
The Glinda Palette
after spotting it on various blogs how gorgeous the swatches were plus it was on sale at
beautybay.com
(damn those sales!). When it comes to eyeshadows, I'm definitely a more neutral kind of girl, so this palette was my first step out of my comfort zone. I'm surprised that the shades are very wearable!
And that concludes my haul for January! Quite a lot there; I've only used a few and I'm already loving them so far. I hope you've enjoyed this post; I love reading about hauls myself!
If you would like to request an in-depth review of any of the mentioned items, please leave me a comment below!
Stay beautiful everyone!