I've never really ventured into Asian cosmetics even though I'm quite Asian myself.
Perhaps, it could be the associated unfamiliarity and how there is a slight degree of difficulty to accessing such products.
Fortunately, ever since I became acquainted with Daiso Japan, I've proceeded a step forward in engaging with Asian beauty products.
For those who haven't heard of this amazing Japanese discount retailer,
Daiso Japan
sells various items including stationary, beauty products, toys, personal care items, kitchenware, manchester, apparel and cleaning products - all for
$2.80
. Yes, under three dollars each.
Since the expansion of these stores throughout Sydney, I was able to visit one and produce a worthy haul!
(The haulage)
I've been meaning to try their eyebrow pencils (more like eyebrows pens) after hearing my peers used them.
There are different varieties present but I settled on two "brands" based on their appeal.
Daiso Japan Eye Brow Pencils (various)
The shades came in black, dark brown and brown. I settled on dark brown and brown even though my hair colour is black because through experience, I believed these shades would provide the most natural look on me.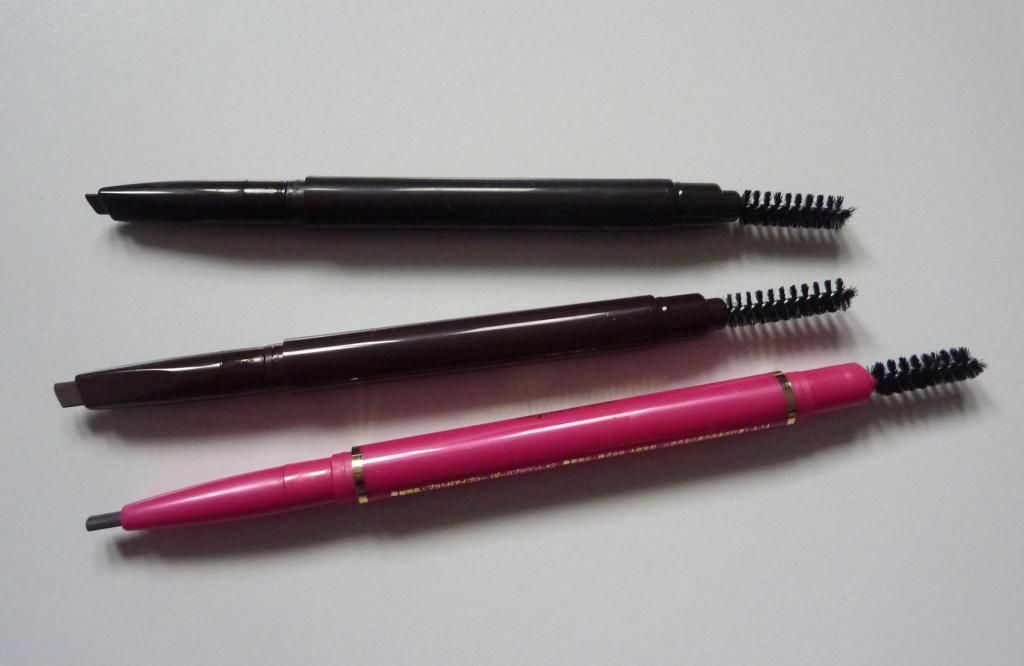 Each of the eyebrow pencils selected had a spoolie brush attached at the end. Additionally, they all encompassed a twist mechanism, allowing the lead to surface out.
The first two eyebrow pencils (0.3 g) shown have a triangular shaped lead which allowed for more accurate and precise defining. These pencils had the brush side labelled so you don't get confused which side is which when they are both capped on.
The third eyebrow pencil (hot pink pen) (0.22 g) isn't labelled as the aforementioned pencils. However, the lead is of a circular-oval shape, allowing you to "make the inner corner thick and outer corner thin with this spin pencil lead" (quoted from packaging).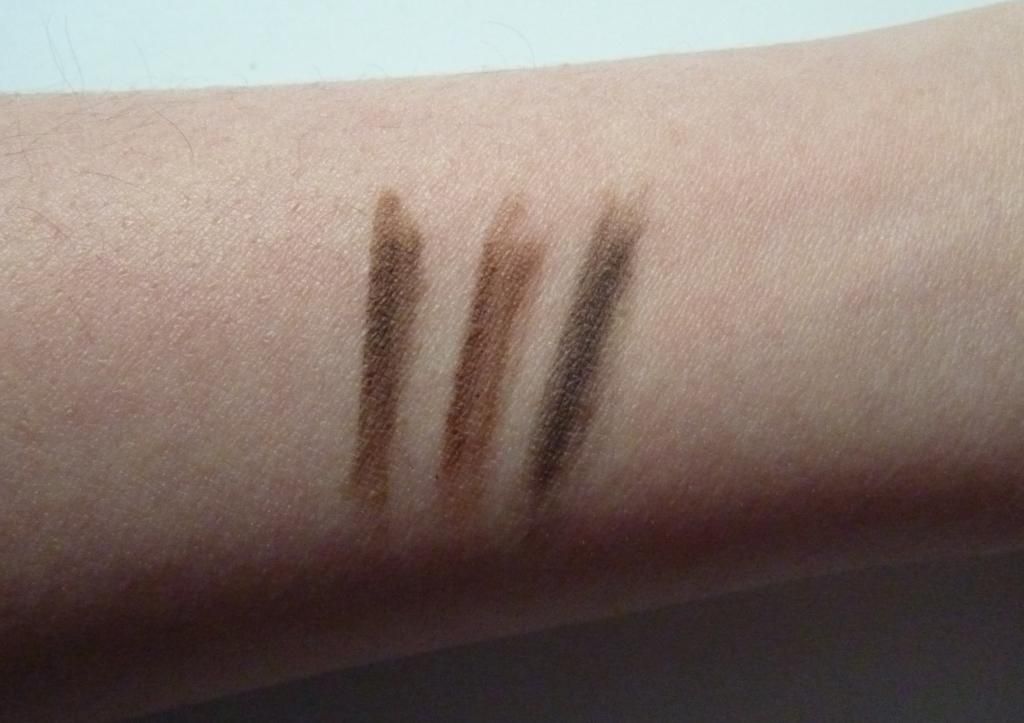 (swatches: dark brown, brown, dark brown (pink pen))
When swatched on my arm, these pens appeared to be hard and quite the opposite of creamy - I couldn't get much pigmentation from them. However when I applied them to my eyebrows, it was easier to work with; I really liked how naturally defined my eyebrows look. These Korean-made eyebrows pencils don't need to be sharpened as they encompass the twist up mechanism.
For $2.80, these pens aren't too bad and I would probably repurchase these again, if I was on a budget. I would recommend these pens for those who already have full brows and want that minor touch of definition.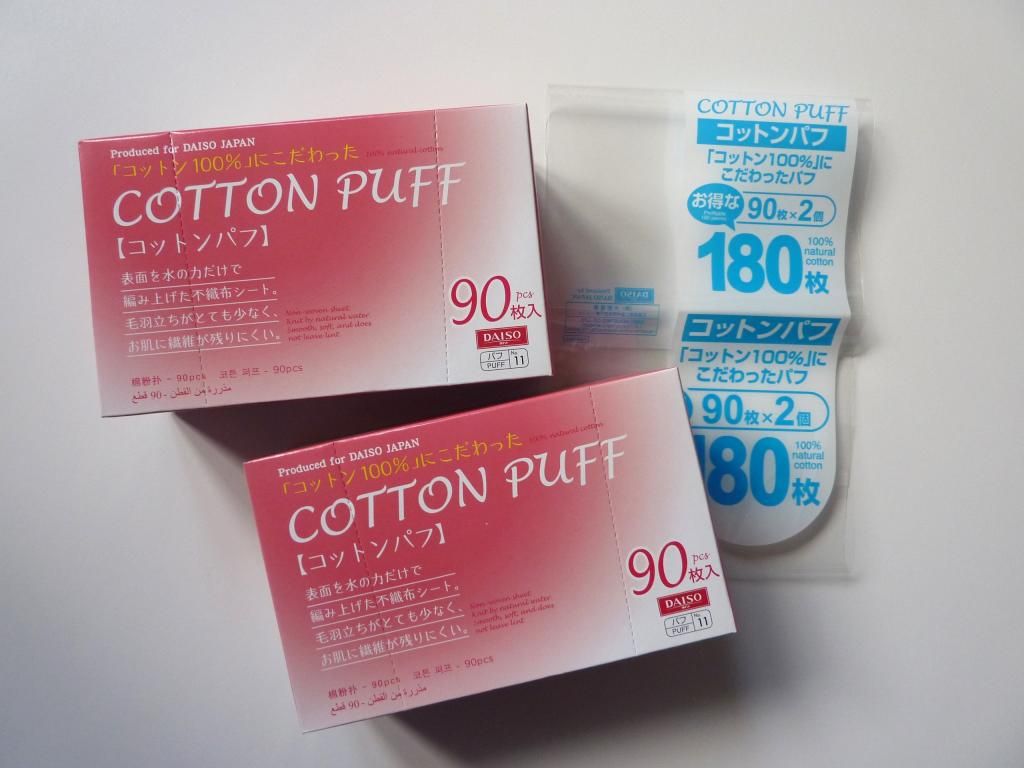 Daiso Japan Cotton Puffs (2 x 90 pieces)
I love these to death. I stopped buying the Aldi or Coles makeup rounds ever since I discovered these. Super-soft, lint-free square puffs that are effective for removing my makeup, at only $2.80 for 180 pieces (2 x 90 pieces), I don't think there's a better offer than that. Will forever repurchase!
(Made in China).
Daiso Japan Vitamin C Cleansing Tissue (35 sheets)
These have a citrus scent upon using them, but after a while, the scent fades away. I really liked the material the sheets are composed of, they're soft and durable - exactly what I look for in a cleansing wipe. The cleansing "tissues" perform adequately well in removing my makeup. I would definitely repurchase these considering the performance and how cheap they are compared to other brands. These are made in Korea.
Daiso Japan Detergent for Puff and Sponge (80 mL)
Finally a Japanese product to showcase. This is my HG brush cleaner girls! I've heard so much about this "brush cleaner" on the blogosphere and after scouring around, I finally found them! They're quite low in stock in the stores I visited; I'm sure word got around how effective they are! I only dispense a small amount in warm water and it gets my brushes clean after a good soak. I would forever repurchase this! The only complaint I would make is the amount of product in the bottle - the bottle doesn't appear to be completely filled up.
Daiso Japan Pore Care Pack (4 pieces)
My first experience with pore strips was with Biorè. Boy, that was quite a satisfying experience! I don't really need to use pore strips that often but I made a purchase because, c'mon, for $2.80 I would like to gain the sick pleasure of ripping my nose off. Jokes aside (a bad one indeed), these charcoal based strips work just as well as the Biorè ones, so if you're looking for a cheaper alternative, give these a shot!
(Made in Korea).
There's a lot more going on at Daiso Japan in regards to beauty products. I'm definitely going back to have a look and purchase a few more items to play with.
Once again, Daiso Japan sells "everything $2.80, everyday".