June can be best described as a blur.
I finished my exams in the earlier half of the month and concluded it with friendly encounters and random episodes of work.
Unfortunately, due to the stress of my exams I did break out and additionally, my skin became irritated. I made a few purchases here and there and used quite some products in an attempt to control the crazy state my skin was in.
Behold, June 2014 empties!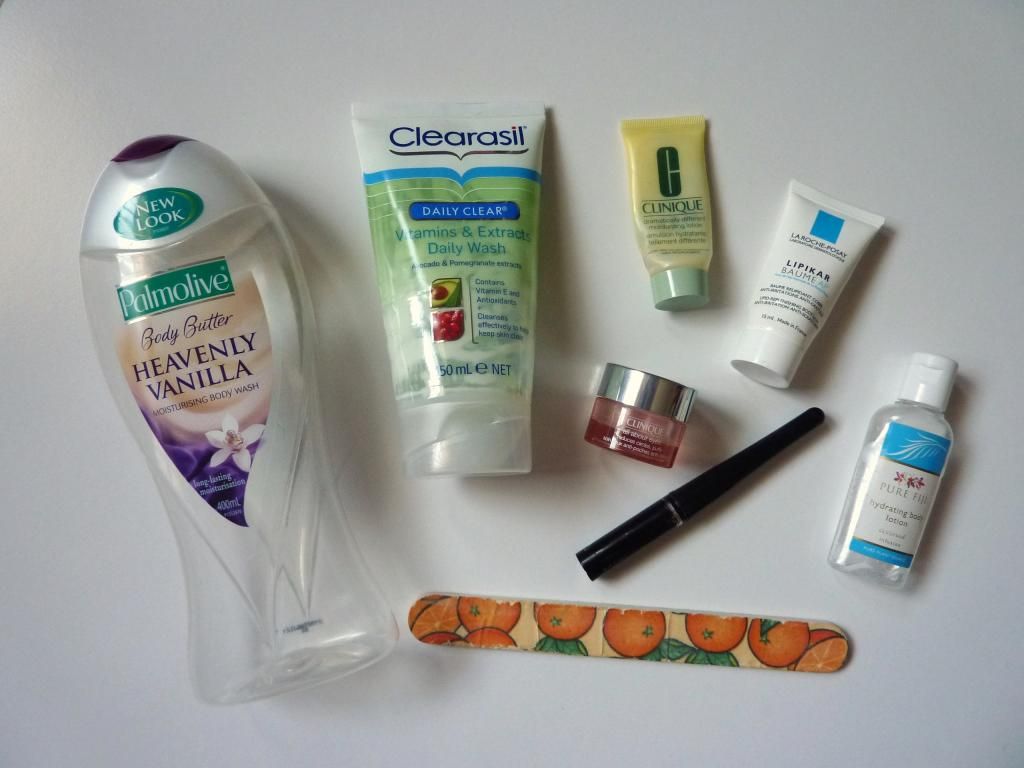 1.
Palmolive
Body Butter Heavenly Vanilla
Moisturising
Body Wash (400 mL)
I love basically anything that is vanilla scented or infused! This was a lovely treat to use and I would probably repurchase later on in future, as I like to experiment with various body washes. Great for those winter nights!
2.
Clearasil
Daily Clear Vitamins & Extracts Daily Wash
Cleanser (150 mL)
I had my first encounter with
Clearasil
back in the teenage years to control my combination skin. This cleanser is gentle albeit it does contain salicylic acid. It's a great every day cleanser to use but I wouldn't rely on this to help clear my problematic skin. I would probably repurchase it for general everyday use.
3.
Clinique
Dramatically Different
Moisturizing Lotion (15 mL sample)
I finished this up in last month's empties (
here
) and overall it was a great moisturiser for dry skin types. However, I wouldn't purchase it as there are cheaper alternatives that do a similar job.
4.
Clinique
All About Eyes
Eye Serum (7 mL sample)
This product aims to reduce dark circles & puffy under eye areas, which sounds like the perfect eye cream for me! I really liked how refreshing and cooling this product was. I do believe that this serum works well and I would probably purchase this in future.
5.
La Roche-Posay
Lipikar Baume AP
Body Balm (15 mL sample)
I received this in one of the beauty subscription boxes. It's a "lipid-replenishing body balm" designed for dry or irritated (itchy) skin. Aforementioned earlier, I did suffer from irritated skin due to the immense anxiety I had from exams. This product was a lifesaver and helped nourish my skin whilst I was recovering. I definitely recommend this product!
6.
Pure Fuji
Hydrating Body Lotion (
coconut infusion)
(15 mL sample)
This smelt really delicious but it wasn't as hydrating as I wanted it to be.
7.
Rimmel
Glam' Eyes
Professional Liquid Liner in
#001 Black Glamour
(3.5 mL)
One of my HG liquid liners. I love how I can create a really thin yet pigmented line and it really lasts quite a while! I will definitely repurchase this in future. I actually use a couple of liquid liners on rotation.
8. No Brand Nail File
Wow, I've had this for quite a long time! This initially smelt of oranges and was really enjoyable to use. Over time, the nail file has worn out so it's time to bid farewell!
And that concludes June 2014 empties!