Deals like these gets me excited:
The timing couldn't have been more perfect.
I was curious in trying out
Antipodes
Apostle Skin-Brightening & Tone-Correcting
serum, to address some pigmentation I've acquired during the summer months. It was difficult to convince myself to fork out over $50 to purchase 30 mL of serum; so when this deal rolled around, I didn't think twice.
The deal was to spend a minimum of $65 on selected skincare products and receive the goody bag for free!
This year's bag came in a reflective silver tote, presumably a
Model's Prefer
one.
Here's what I got when I emptied my bag:
Antipodes
Avocado Pear
Nourishing Night Cream (15 mL sample)
Avène
Eau Thermale
Thermal Spring Water (50 mL)
Beauty Essentials
Dry Skin
Body Lotion (500 mL)
Biorè
Steam Activated
Cleanser (145 mL)
Burt's Bees
Lemon Butter
Cuticle Cream (17 g)
Chapstick
True Shimmer
Lip Balm in
Tropical
(4 g)
Derma Sukin
Daily Gentle Wash
Dr. LeWinn's
Firming Eye Cream (30 g)
Essenzza
Fuss Free Naturals
Natural Facial Cleansing Wipes (25 wipes)
Hope's Relief
Goats Milk Sopa (with shea & cocoa butter) (125 mg)
Manuka Doctor (
pack of 3 samples)
- apiclear skin serum (5 mL)
- apifine targeted wrinkle filler (3 mL)
- apinourish rejuvenating face mask (7 mL)
ModelCo
Face Tan
Hydrating Self-Tanning Gel (50 mL)
Models Prefer
Cosmetic Bag
Models Prefer
Kohl Pencil in
Matte Black
(1.14 g)
Neutrogena
Naturals
Purifying Facial Cleanser (177 mL)
Nivea
Pure & Natural
Hand Cream (75 mL)
No brand - Dual Mirror Compact
Palmer's
Cocoa Butter Formula Intensive Relief
Concentrated Cream Hand & Body (100 g)
People For Plants
Mist Toner (rose otto, burdock, kakadu plum) (125 mL)
Puretopia
Gentle Exfoliating Face Scrub (75 mL)
Sanctuary Spa
Body Scrub (200 mL)
Simple
Kind To Eyes
Eye Make-Up Corrector Pen
Suvana
Organic
Paw Paw & Honey Balm (25 g)
Swisspers
Naturals Aloe
Gentle Eye Make-up Remover (100 mL)
Thursday
Plantation
Macademia Oil (125 mL)
Yes To
Carrots Lip Butter
in
Berry
(4.25 g)
Samples
Montagne Jeunesse
Dead Sea
Mud Pac (Kelp & Seaweed) (6 g sample)
Palmer's
Cocoa Butter Formula
Intensive Relief
Moisturizing Lotion (5 mL)
Swisspers
Naturals Cucumber
Facial Cleansing Wipes (5 wipes)
There was also the inclusion of discount vouchers for some of the product brands included in the bag.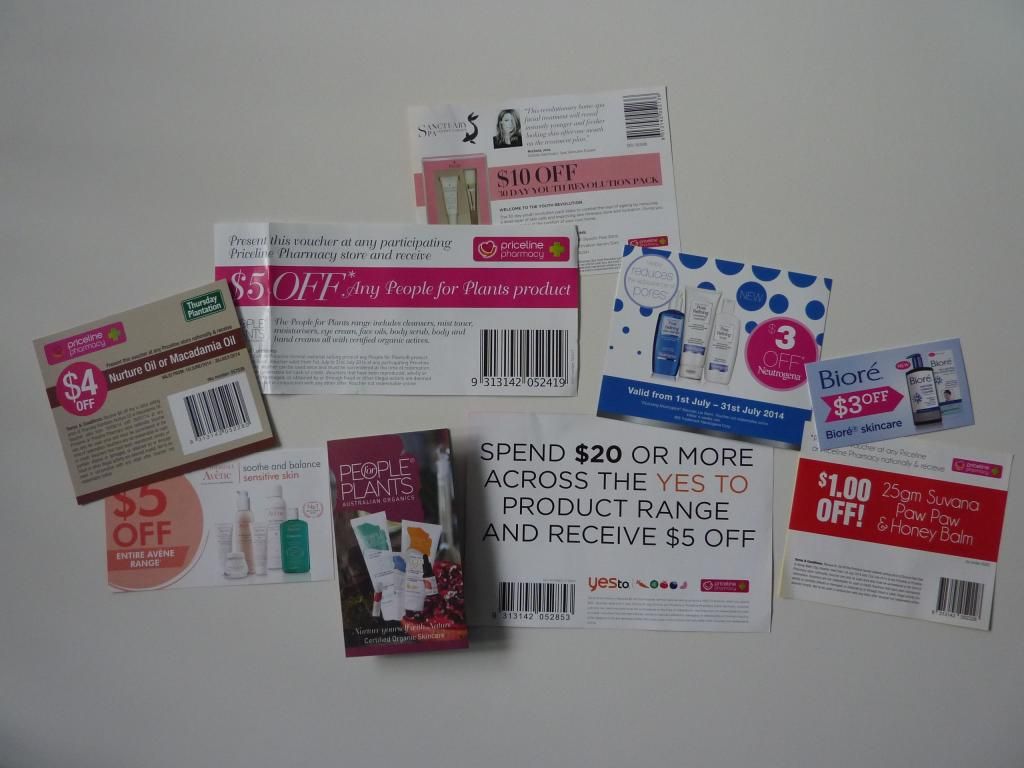 I ended up spending under $70 to qualify for the free bag.
The products I've purchased were also
discounted
; overall it was a great deal!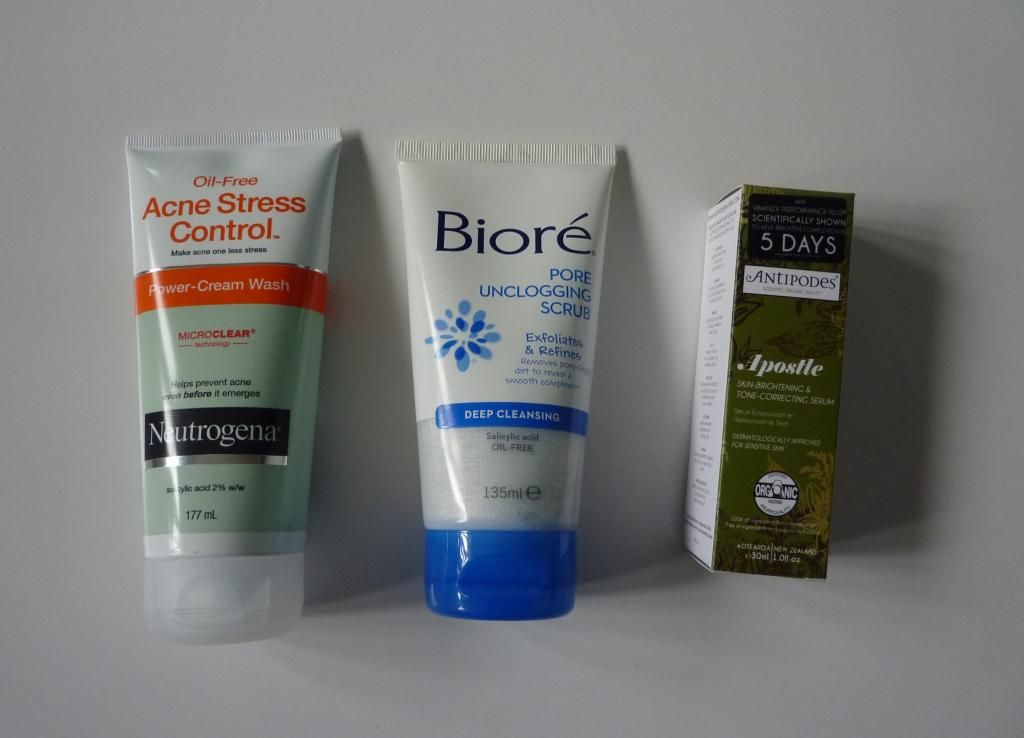 Neutrogena
Acne Stress Control
Power-Cream Wash (177 mL)
$11.99
Biorè
Pore Unclogging
Scrub (135 mL)
$8.79
Antipodes
Apostle Skin-Brightening & Tone-Correcting
serum (30 mL)
$47.19
I can't wait to start using these products. I'm definitely stocked up in the winter skincare department.
To see what's in last year's skincare bag and my previous skincare haul, click
here
.
So, did you cave in for the skincare goody bag this year?!